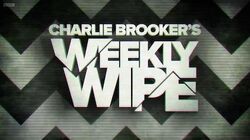 List of Weekly Wipe episodes is a list of episodes of Charlie Brooker's television series Weekly Wipe which is broadcast on the BBC. The series is part of the wipe shows (which include Screenwipe, Gameswipe and Newswipe). The series was first started on 31st January 2013 and so far has lasted for two series with fifteen episodes so far.
Series 1
Edit
Series 2
Edit
Series 3
Edit
Ad blocker interference detected!
Wikia is a free-to-use site that makes money from advertising. We have a modified experience for viewers using ad blockers

Wikia is not accessible if you've made further modifications. Remove the custom ad blocker rule(s) and the page will load as expected.