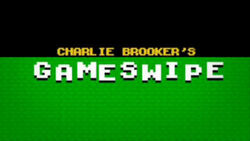 Charlie Brooker's Gameswipe was a special one-off British, video game culture show by Charlie Brooker, aired in September 2009 during the BBC's Technology season. Following on from Brooker's Screenwipe and Newswipe, Gameswipe featured reviews of various video games and consoles as well as an insight into the video game industry.

This series is part of a group of Charlie's show refereed to as "the wipe series" which includes Screenwipe,Newswipe and Weekly Wipe.
Ad blocker interference detected!
Wikia is a free-to-use site that makes money from advertising. We have a modified experience for viewers using ad blockers

Wikia is not accessible if you've made further modifications. Remove the custom ad blocker rule(s) and the page will load as expected.